Our Story
Since its inception in 2011, the International Pilot Academy has established a leading reputation as one of the best pilot training schools in Canada. We are a one-stop shop for student and rental pilot needs and offer professional flight instruction programs for prospective commercial pilots from the region and abroad. In addition to our comprehensive training and education programs, we also offer expert aviation consulting services and aircraft rentals for individual use and flight training purposes.
Jules Selwan

Co-Founder & President
| ATPL | Class 1 FI |
Since his childhood in Beirut, Lebanon, Jules has been a passionate aviation enthusiast. His childhood dreams came true when he earned a pilot's license in Lebanon, and he soon after obtained a Commercial Pilot's License in Canada, in addition to certification as a Class 1 flight and aerobatics instructor.
Alongside his ownership of the International Pilot Academy, Jules is actively involved in managing several other businesses, and holds a Bachelor of Science degree and a Master of Business Administration. Jules is fluent in English, French, and Arabic.
Tony Kaminskyj

Chief Flight Instructor
| ATPL | Class 1 FI |
As a Flight Instructor for over 20 years, and 19 years as a Class I Flight Instructor, Tony brings a
wealth of experience to IPA. His career as a Class I Flight Instructor includes being a senior
Instructor at Sault College and a Professor at Seneca College as well as Chief Flight Instructor at
flight schools and Flying Clubs in Ontario.
He obtained his Private Pilot License in the USA, before moving to Saskatoon, Saskatchewan
where he completed his Commercial Pilot License and Flight Instructor Rating. While instructing
in Saskatchewan, Tony has flown charter flights, conducted pipeline patrols and flew as a jump
pilot for a local parachute club.
Anthony Wilson

Operations Manager
| CPL | FI |
Anthony has spent his life surrounded by aviation. He grew up in South Africa where his father took him flying in Helicopters, and then moved to Australia getting his first taste of the fixed wing flight training. He also spent time in Hong Kong, exposing him to the larger commercial airlines as well as getting an in depth look at the operations side, working on audits and creating operations and safety manuals for numerous air operators. Finally, he landed in Canada where he began his flight training in earnest with IPA. Alongside his flight training, he began to work closely with the operation and naturally fell into his role as the Ops Manager.
Shaun Munro
| ATPL |
Shaun caught the flying bug at four years old by flying in small planes with his father. While still at university, he earned his private pilot certificate in his native New Zealand.   Shaun began flying professionally in 2007, piloting Seaplanes in Australia. Aviation took him to Zambia to fly bush planes and dodge lions lounging on dirt strips throughout southern Africa.  
In 2011, fulfilling a lifelong dream he bought and was licensed on a weight-shift microlight and spent three months flying up the coast of Africa.  In 2013 he flew in the Caribbean for 2 years before moving to Canada with his family where he has flown scheduled passenger operations as well as 757 and 767 cargo operations.
Shaun is licensed on Helicopters and fixed-wing aircraft with licenses from the UK, New Zealand, Australia, British Virgin Islands, Zambia, South Africa, the Congo, USA, and Canada.
Michael McDonald
| ATPL |
Michael has been a Pilot for over 20 years, with approximately 12000 hours,. Most of that time has been spent on jet aircraft. He is type rated on the Beech 1900, CRJ, Boeing 737, 757 and 767. He has experience as a Captain and Type Rating Instructor on the Boeing 737-800.
Michael has always enjoyed instructing, and looks forward to contributing to your success with IPA. He uses his experience to offer advanced IFR ground school courses and flight instruction.
Guy Labrie
Designated Flight Test Examiner
| ATPL | Class 1 FI |
Guy has 50 years of experience, and is a senior Class 1 fight instructor with 10,000+ flying hours. He is the original author of the "Instrument Procedures Manual" and many other aviation publications. Guy is a designated flight test examiner (DFTE) for Recreational Pilot Permit, Private Pilot Licence, Commercial Pilot Licence, Multi Engine Rating, Multi Engine Instrument Rating, Class 4,3 and 2 Instructor Ratings.
Scott Eichel
| ATPL | Class 1 FI |
Scott has 20+ years as a senior Class 1 flight instructor and 9,000 hours of flight instruction, charter and
specialty flying throughout North America.  Scott is currently responsible for the training of flight instructors.
Flight & Ground Instructors
Anand Srinivasan

Flight Instructor
| CPL | FI |
Anand is currently working as a flight instructor with IPA. His passion to become a pilot set in when he was 9 years old, after his first commercial flight. He continued to pursue this passion, leading him to complete an Aerospace engineering B.tech in 2013. After gaining some experience in this field, it lead him to further develop his passion to get behind the controls of an aircraft.
His first flight as a trainee began with IPA and since then he has "enjoyed every moment of being here, as IPA has continued to grow every year. IPA has a great platform, it is one of the best to continue working for. I am sure that IPA will continue to strive forward, improving the current reputation we have and help every ambitious pilot out there to become one of the best in the world."
Zhaokun Li

Flight Instructor
| CPL | ME | FI |
Zhaokun began his aviation journey aviation in 2014 after graduating from Carleton University.  He is fluently bi-lingual in both Mandarin and English.
Zhaokun decided to become a flight instructor for two main reasons, firstly in order to satisfy his passion for flying and secondly to inspire his student with the same enthusiasm and passion for flying. He believes that "Your wings already exist, all you have to do is fly".
Damian O'Keefe

Flight Instructor
| CPL | FI |
Damian's interest in aviation stems from his time as an Air Force Avionics Technician.  He started flying in the early 2000's while living in Australia and completed his Private Pilot License when he returned to Canada in 2004. For the following 15 years, Damian flew for pleasure and was co-owner of a trusty 1965 Piper Cherokee 140. He recently completed an Instructor Rating and then joined the professional cadre of instructors at International Pilot Academy. Damian has a PhD in Organizational Psychology and instructing flying at IPA allows him to extend his passion for teaching from the university classroom to the Sky.
Santiago Leal

Flight Instructor
| CPL | ME | FI |
Santiago started his flying career with the cadets, gaining experience on gliders. This experience set alight his passion for flying. Ready to tackle the world from a birds eye view, he continued on his aviation journey in Chicoutimi. In Chicoutimi, Santiago obtained his CPL and Group 1 IFR Rating. Following this, he completed his flight instructor rating with IPA and joined the IPA flight line.
Having his Multi-IFR ratings with more than 50 hours of experience on a Piper Navajo, he brings a wealth of knowledge and expertise to the team.
Rob Andrews
Ground School Instructor
| PPL | GPI Class 1 |
Rob has been interested in aviation for many years, both as a Glider Pilot Instructor and a Private Pilot. He has formal education in both Electronics Engineering and Computer Science, giving him a strong interest in computer-based flight management, navigation and avionics. He has taught both College- and University-level courses and continues to enjoy teaching aviation-related subjects. Rob holds a MSc, Hon Bsc and DipTech EE.
Kassandra Laderoute-Vaudrin
| PPL |
Kassandra is currently completing her flight training with IPA, working towards her CPL+Multi-IFR.
Before coming into her role as a flight dispatcher, Kassandra worked at a commercial operation, gaining valuable experience and insight into aviation operations.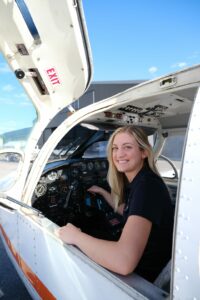 Austin Williams
| PPL |
Austin has spent his life flying, obtaining his first flight permit at the age of 14. Following this passion in aviation he started to work as a CSR working his way up to a managerial role. In this role he was responsible for over a 100 employees and scheduling. This experience has allowed Austin to become a valuable asset at IPA and bring a unique perspective to the flight dispatcher role.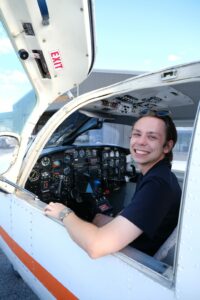 Jack Field
| PPL |
Jack is currently enrolled in the iATPL program with IPA.
Joining the dispatch team has helped him gain experience in a new aspect of the aviation industry. As he completes his journey towards becoming a pilot, he will continue to be an asset to the IPA team.